FAQ
GENERAL QUESTIONS
How do I contact Papermoles Customer Service?
You can contact our custom service telephonically on +49 (0)40 3866 2155 and E-mail shop@papermoles.com. You can reach us from Monday until Friday between 9:00 - 17:00 h.
What are the opening hours of the Papermoles manufactory?
We open the PAPERMOLES manufactory for our customers at the following times:
Mon - Fri 10.00 - 12.00h and 15.00 - 18.00h
Sat 10.00 - 14.00h
Where can I purchase Papermoles products?
You can order Papermoles products through our website shop.www.papermoles.com or at our manufactory situated at 2 - 4a Kanzleistraße, 22609 Hamburg Nienstedten.
What is the unique selling point of Papermoles leather products?
Papermoles leather products are handmade to order in our Hamburg based manufactory and are not mass-produced articles. The leather portfolio is our speciality, not just a side product. The assortment of leather portfolios is therefore particularly large.
Every Papermoles product is custom made with an individual embossing. The personal embossing is the unique selling proposition of every Papermoles leather product. As of the embossing the buyer/presentee becomes the brand. Our manufactory provides you with the opportunity to select from a variety if leather products and colours. At the end is your personal leather portfolio – handcrafted in Hamburg.
Finest quality, exquisite materials, traditional handicraft and timeless design – that is our promise.
Are the colours I see on the computer monitor the actual colours of the leather folders?
Unfortunately it is not possible to guarantee that the colour will be 100% correct on the computer monitor as colour calibration and lighting on different monitors may vary. If you would like to see the exact colours before ordering, simply order our sample colour wheel by E-mail shop@papermoles.com.
QUESTIONS ABOUT THE PRODUCTS
How do I choose my Papermoles leather folder?
There are only five steps to design your personal leather folder:
1. Select your leather folder out of our collection
2. Select the colour of the your leather exterior
3. Select the colour of your interior felt
4. Select your personal embossing
5. Select your stationeries and the accessories that are compatible with your leather folder
Can I order a Papermoles leather portfolio without embossing?
Papermoles leather products always carry an embossing on its front side*. That personal note is one of the characteristical and awarded design attributes of Papermoles that ennobles your individual leather portfolio. You are free to choose another embossing than your name. Please feel free to contact our Customer Service in that regard.
*) The following products are available as "Specials" in our online shop: PortKey, PortNote2, Armband, and Pods.
Where is the embossing positioned?
The certain something of every Papermoles leather folder is the embossing on the front side. The embossing is one part of the Papermoles design, which was honoured with the red dot design award (product design). This summary shows the position of the embossing on the respective Papermoles products: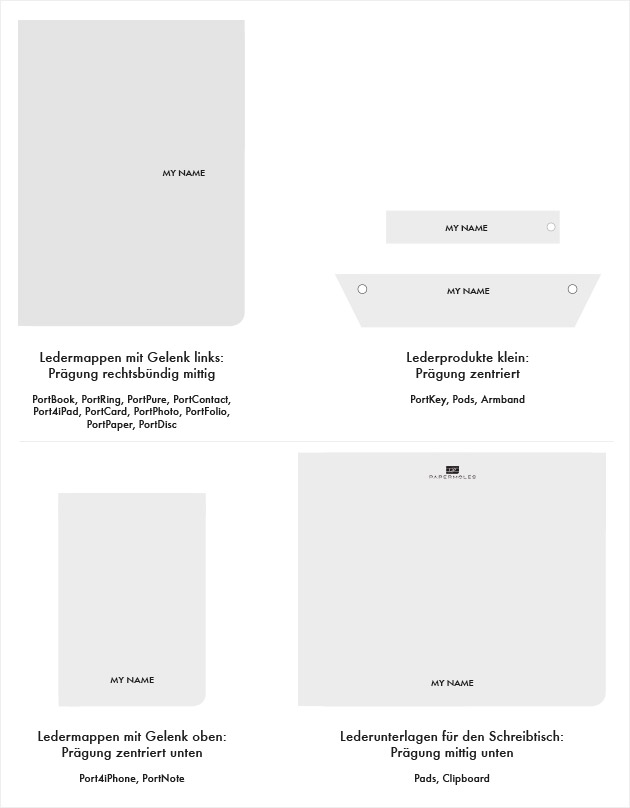 What do I have to consider regarding the file for my logo embossing?
To be able to produce the printing plate we require your logo in vector graphic as eps.- or pdf.-file in black&white (any grey colours will appear as unclear embossing). The black lines should be at least 0,5 mm. Please pay attention in a very good file quality.
I have already a printing plate for my logo – can I send this to Papermoles?
Unfortunately we cannot use your own printing blocks (embossing stamp). To adhere to our high quality standards, it is crucial that the embossing stamp has no wear and has been made to perfectly fit into our embossing machine. However, we keep the embossing stamp for you for at least two years. When embossing the image again in that time period, there will be no new costs with regards to the printing block.
Where are Papermoles products made?
The Papermoles Collection is produced by high quality craftsmanship at our manufactory in Hamburg Nienstedten. This is also where our stationeries are manufactured. The production of our care sets as well as the sewing our bags completes the idea of the manufactory.
Each Papermoles piece is handmade and one of a kind but most importantly it is – "Made in Hamburg".
What materials are used in the manufacturing of the Papermoles collection?
Leather
The Papermoles leather products are made from high quality leather uppers from controlled European tanneries. The 2-mm thick calf leather in the colours black, nature and brown have a natural porous surface. They are naturally tanned and unsealed as only the upper leather shows the natural structure of leather. The leather products show their true beauty through prolonged use - they obtain patina. However, one must still care for the leather. The Papermoles-Care-Kit is perfectly suited for this as it contains a high quality leather conditioner made from bees wax. Even the white Papermoles leather is made of high quality leather uppers whose surface is sealed and therefore extremely durable. This leather can be effortlessly cleaned with a diluted soap and water solution.
Textile
The interior of the leather portfolios is lined with coloured felt fabrics. The fabric is made of woven and felted wool and is particularly resistant. Unlike fulled felt, this fabric does not fluff when abrased. Our Papermoles BAGs are made of pure new wool and are lined with pure cotton.
Paper
The various paper that is used in Papermoles stationery such as our Books, Blocks and Calendars come from prestigious Italian manufacturers of fine paper. They are, of course, wood-free, acid-free and chlorine-free.
Metal
The metal parts used in Papermoles products such as mechanisms and rivets are sourced from reputable manufacturers who stand for exceptional quality. Every metal part is checked in the factory for functionality and strength.
Folio
The display sleeves for the Papermoles portfolios are made of crystal clear polyester. The high quality polyester is supplied on a roll to the manufacturer and is then made into plastic sleeves. A special joint allows the display sleeves in the leather portfolios to be perfectly set up. The other display sleeves are made in Germany. The soft PVC is cadmium-free and contains only bonded softening agent.
Adhesives
Papermoles only uses adhesives that contain no solvents. Therefore there is no danger of gas emissions. The edges of our leather products are glued together in order to remain stable for a long period of time. The edges of our Papermoles PADs are finished with an acrylic distemper.
How do I take care of my Papermoles leather product?
ll Papermoles leather products become more beautiful through usage. Characteristic traces of life enhance the charm and the individuality of the products. However, leather and textile fabrics always deserve some regular care. The Papermoles-Care-Kit is specially designed for this and contains a high quality leather polish containing bees wax, a dust cloth and a fabric brush made from oiled pear wood. Shake the leather polish well before use and then place a little bit of it on the dust cloth. Rub the leather polish into the leather with large circular movements and let it dry.
QUESTIONS ABOUT ORDERING
How long is the production and delivery time for my personal leather product?
Each Papermoles product is a handmade unique piece and is custom made for you. Production lasts about 14-19 days.
The delivery takes place on Saturday in 14 days after receiving the payment. In case of logo embossing the lead-time begins after approving the embossing draft. If you wish so, you can also collect your products in our manufactory.
We normally dispatch our products through DHL. The standard delivery time of packages with DHL in Germany is 1-2 working days.
What if I need my leather folder sooner?
You can fast track your order for an express charge in each particular case. If you have an urgent order please consult an advisor from customer service.:
phone: +49 - (0) 40 -38 66 21 55
E-mail: shop@papermoles.com
EXPRESS FEES / PRODUCTION
Product desired in 2 days: urgency charge 100% on the leather product (Express Delivery recommended)
Product desired in 3-5 days: urgency charge 50% on the leather product (Express Delivery recommended)
Product desired in 6-12 days: urgency charge 25% on the leather product (Express Delivery recommended)
How are the shipping and handling fees?
Shipping within Germany
- stationeries till 1 kg as letter / small parcel: 2,50 € / 5,00 € (without insurance)
- insured standard delivery incl. packaging: 10,00 € (delivery usually on the next working day, not guaranteed)
- insured express delivery incl. packaging: 30,00 € (delivery on the next working day guaranteed)
Shipping to other EU-countries (the costs can vary depending on the country)
- stationeries till 1 kg as letter / small parcel: 5 € / 10 € (without insurance)
- insured standard delivery incl. packaging: 30,00 € (delivery usually in 4 working day, not guaranteed)
- insured express delivery incl. packaging: 78,00 € (delivery usually on the next working day)
Prices may vary depending on the products ordered and their dimensions.
Our standard and express delivery includes a liability up to 500 € in the event of loss or damage. In addition they includes online shipment tracking. When shipping to non-EU countries additional customs duties may also be charged. This account will need to be accepted and paid by the customer before the package can be delivered.
Can I give a different delivery address?
You can also use a different delivery address as your billing address. When you go checkout page, you will have the option of selecting that the delivery address is different to the billing address. You simply need to tick the box next to "Ship to another address".
Will I receive a shipping confirmation with a tracking code?
You will receive a delivery confirmation by email when we have sent your package. In this email you will find a link to our logistics partner and the corresponding tracking code. With these it is possible to see the actual position of your package on our logistics partner's website.
How do I pay?
You can pay your order with PayPal, VISA, MasterCard, ONLINE Überweisung, giropay or pre-payment (=bank transfer). After receiving your payment we will start producing your individual leather product.
I would like to make a bank transfer – what are your banking details?
For bank transfers in Germany:
Account holder: Buchbinderei Erdmann & Papermoles GmbH
Bank: GLS Bank
IBAN: DE57 4306 0967 2070 6553 00
SWIFT/BIC Code: GENODEM1GLS
In order for us to process your order quickly, please enter your customer and invoice number under reason for transfer.
Can I personally fetch my PAMO from the manufactory although I ordered online?
You can personally fetch the products you have ordered from our manufactory in Hamburg. When you go checkout page, you will have the option of selecting the mode of shipment. You simply need to tick the box next to "collection by the customer".
Kanzleistraße 2-4a, 22609 Hamburg
Opening hours:
Mon - Fri 10.00 - 12.00h and 15.00 - 18.00h
Sat 10.00 - 14.00h
Can I make changes after I have placed an order?
Once we have received your approval to begin production of your individual Papermoles leather product, no further changes can be made. Therefore, you should always check the contents carefully before approving of the order.
What about my Right to Withdrawal? (Returning the received goods?)
As a matter of principle, consumers may cancel their contractual declaration in writing within two weeks (e.g. letter, fax, e-mail) or by sending back the received goods. No reasons required. You will find the details of your Right to Withdrawal here.
However, an exception to the Right to Withdrawal exists, whenever the goods were manufactured to the customer's specifications or were clearly tailored to personal needs. This is in particular the case for all personalized or individualized Papermoles leather products.
I would like to order a series of products. What is it considered a series?
A series is considered to be a small batch of 10 copies of a product with the same colour combination. For more information about the quantity discount or for any further questions please contact us:
phone: +49 - (0) 40 -38 66 21 55
E-mail: shop@papermoles.com